Over two months on from the controversial end to the 2018 REC, on Tuesday finally World Rugby confirmed the outcome of their investigation into ineligible players. After the earlier precedent set by Tahiti's disqualification it was one that many had expected as the most likely.
The investigation involved all REC teams involved in RWC qualifying. Although the mostly retaliatory accusation against Russia over former Kazakh international Anton Rudoy was never going to be an issue. He has been in Russia a long time and clearly fulfilled all the necessary criteria to change his allegiance via the Olympic 7s qualifying loophole.
Germany also came under question. It is thought the player involved was former Wales U20 international Jamie Murphy. Whilst the U20s were Wales' second designated team when Murphy played for them in 2009, unlike the case in involving Mathieu Bélie and Bastien Fuster however, in that particular year France's second designated team was "France A", so there were no possible opponents for his eligibility to get locked.
Victor Paquet
The others could not escape though having all clearly fielded ineligible players. Romania with former Tongan 7s player Sione Faka'osilea. Spain with former France U20s Bélie and Fuster. And Belgium with five unnamed players (although at least one is thought to be hooker Victor Paquet) with heritage just from great-grandparents one generation out from what is allowed.
There is a lot of sympathy to be had for the players and fans from Romania and Spain. They have done nothing wrong and seen their goal of reaching the World Cup disappear away from the pitch and all the effort, sacrifice, and work gone into it go to waste. As two teams with squads on the older side for many of their players this was also their last chance to play on the sport's biggest stage.
Unfortunately in both cases the administrators (contrary to the claims made to the investigation) have simply fallen foul of human error and messed up.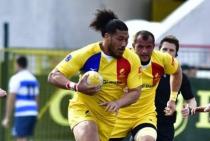 Sione Faka'osilea
The Romanians claimed to have "explained" Regulation 8 to Faka'osilea. The player would surely remembered he played 7s for Tonga so if that were really the case they must have either given a rather shoddy explanation or the player totally misunderstood it.
Romania also claimed to have checked with the Tongan Rugby Union Chairman, and searched ESPN and Wikipedia to find out if Faka'osilea had played for Tonga. This part also seems a bit odd.
Firstly if they needed to check if Faka'osilea had played 7s for Tonga then surely wouldn't the first thing to do be to ask the player himself if he had done so? That would be have provided a better answer than going to two notoriously incomplete and unreliable sources or a Union that is one of the worst in terms of providing information and unable even to run their own website or active social media feed.
Secondly Faka'osilea made his international debut on March 4 last year and his Wikipedia page was only created on March 20. Also ESPN don't have profiles of Romanian SuperLiga players so are unlikely to have had a page on him prior to March either. Thirdly if the FRR had searched Google a bit better they could have found
his page on "it's rugby"
,
the article in 2014 from Baia Mare announcing his signing
, or
an article from 2015 on the blog "Est XV"
all of which also noted he was a Tonga 7s international.
In all likelihood it is doubtful Romania actually "explained" Regulation 8 to Faka'osilea at all or went to any lengths to check if he had played 7s for Tonga. All they probably made sure to check was if he had played for Tonga or Tonga A and simply forgot about 7s. Indeed it is not all that surprising they might have forgotten about 7s as the abbreviated form of a game is a complete non entity in Romania.
The report also shows Spain attempted to scramble their way out of disqualification claiming France shouldn't have been able to change their second designated team to France U21 in 2007 to France U20 in 2008 (when World Rugby changed the age of their junior competition) and that the chosen team should have stood for four years.
Mathieu Bélie
This was actually quite a clever attempt by the FER to save themselves but this was ultimately rejected by the report. WR had clearly allowed France to change to U20 years ago when U21 got pushed aside. If Spain had indeed studied the rules closely to attempt to find a loophole to field Bélie and Fuster they would have surely checked with World Rugby first.
In reality this was just them desperately looking for anything to try and cover for their oversight. It is not the first they have made eligibility oversights in recent times either. Former France 7s player Fabien Grammatico played for them back in 2015. David Mélé also previously of France 7s very nearly played for them this year as well but for an injury.
World Rugby were obviously correct to judge these were ineligible players. It is hard to see how the appeals that are being launched will have much success in getting more lenient sanctions either.
This is a big shame for both teams, especially Romania who would have certainly been able to qualify without Faka'osilea anyway. Their demise is particularly sad as RWC 2019 was likely to be the last tournament for many of their longest serving players which they have now missed out on through such a needless and unnecessary blunder. Also for the tournament itself it would have been far better to have had the strongest most competitive team possible there.
Whilst Spain would not have got so close to qualifying without their ineligible player Bélie, who was crucial for them at fly half and probably one of their best of all time, they will also probably be genuinely annoyed at how World Rugby has for so long allowed the designated second team to be used so inconsistently in the first place, and at France for designating their U20s.
Next year Los Leones will watch from home a World Cup that will feature dozens of former U20 internationals such as the likes of Nemani Nadolo, Amanaki Mafi, CJ Stander, Chris Vui, Henry Speight, Ross Moriarty, or Brad Shields who now all represent different countries to the ones they did at junior level. In fact over half the teams in the tournament are likely to field such players including even possibly France themselves if they recall Scott Spedding or Noa Nakaitaci.
Spain were just unlucky that the one particular nation which provides them with all their heritage players happened to be one of the few that nominated U20s as their second team.
Telusa Veainu is one of eight players
in the Tonga squad who would have
been ineligible had New Zealand
designated U20s as a second team
By the way you can be very sure Tonga are incredibly thankful New Zealand never did likewise even though their "Junior All Blacks" team has been inactive even longer than "France A" has been. If New Zealand had nominated their U20s instead then the Ikale Tahi would have lost eight members of their current squad including key players such as Ben Tameifuna and Telusa Veainu.
However whilst many would agree that being able to essentially nominate U20s as your 'A' team to lock eligibility has always been daft and World Rugby were right to belatedly stop that as of this year. The rules nevertheless were still in place and Spain benefited from not following them.
Russia are unable to call upon
Khatchik Vartanov after his
appearances for France U20
Russia also have heritage players from France tied by U20s as well such as Oyonnax prop Khatchik Vartanov. You would imagine they would have been very keen to select him if he was available especially as he plays in a position where they possess little depth. But the Russians, already stung by their own ineligibility disqualification 15 years ago, followed the rules. Whereas Spain didn't in selecting Bélie, who was one of the most influential players in the tournament and created the match winning try in Krasnodar that all but ended the Bears hopes of reaching the World Cup (or at least had done until this situation arose).
Had there been a more lenient sanction on Spain that didn't involve points deduction it would have been quite unfair on Russia to have missed out thanks to knowing the rules properly. Also especially considering the precedent set in 2003, where the shoe was on the other foot and Russia were disqualified from the RWC for ineligible players and Spain progressed to the next stage of qualifying.
Video: Spain's ineligible player Bélie created the try that all but ended
Russia's
chances of reaching the World Cup on the pitch.
'A' teams have gradually become
very inactive over this decade
Moving forwards two things should happen as a result of this. Firstly the second designated team concept adds needless confusion and ideally should be scrapped altogether. Nowadays most 'A' teams are highly inactive anyway. Only selection for full national sides not development sides should lock eligibility.
Secondly World Rugby should create an official statistical database of international rugby. Currently most rely upon ESPN Scrum for the records of past matches and players. However their data is riddled with small errors for teams outside Tier 1 and mostly incomplete outside those ranked in the top 20.
Whilst there are hardly any sites to search for historical data on 7s matches and players at all (it is impossible to find out for example the precise number of matches and tries Rupeni Caucaunibuca scored for Fiji at 7s). If WR were to create an official statistical database it would not only help in cases like this for Unions to check a player's eligibility easily and efficiently, but it would also be good for fans looking for accurate information on the records of players outside Tier 1.
This situation has been a regrettable one and it is good to at last have the decision out of the way. Although the fall out from this will still probably keep rumbling on for the next year or so. There are still appeals from Spain and Romania to be heard. Next year's REC may feature a number of match ups that involve a lot more bitterness between the teams than usual. And Russia's appearance at the RWC next year will carry an asterisk alongside it as a fluke that was not earned on the pitch especially if they fail to make the best of it. Hopefully none of this will ever be allowed to happen again.