As a rugby nation the Netherlands has not had much success over the course of the professional era. Their
only ever test against a Tier 1 nation finished 110-0 vs England in 1998
. They were also briefly in the second tier of European rugby the Rugby Europe Championship in the early 2000s, but were soon relegated in 2002 finishing with a points difference of -273 and average losing margin of 55 points.
After that for the next decade the Dutch became the yo-yo team between the third tier and fourth tier of European rugby. Between 2004 to 2015, they lost 20 from 21 games in the Rugby Europe Trophy and were twice relegated, whilst won 14 from 16 in the fourth tier to always go straight back up.
However after such a weak record over the first 20 years of professionalism, and
nearly going bankrupt in December 2014
, in the past couple of years things have begun to look brighter for the
Oranje
. In fact they could be said to be arguably one of the most improved sides in international rugby.
As recently as 2012 the Netherlands were losing 58-3 to their neighbours Belgium, were relegated to play the likes of Malta, Croatia, or Israel in Europe's fourth tier, and had a World Ranking of 47.
Now over the last couple of years or so in the Rugby Europe Trophy, the Dutch have won 7 of their last 9 home games having previously won 1 in their last 10, and snapped a 14 match losing run away from home to win 4 of their last 6 on the road. In 2017/18 they won four out of five games in the competition for the first time in their history, the only loss coming away to Portugal. In March this year the Netherlands reached an all time World Ranking high of 26th, 21 places higher than they were in 2012.
Perhaps the most interesting development in Dutch rugby over the past couple of years though, has been the very recent emergence of a group of young talent who have travelled abroad to try and make it at a higher level as professional rugby players.
In the professional era the Dutch have only had three players to have played professionally. Most notably of course Tim Visser (251 appearances over 12 seasons for Newcastle, Northampton, Edinburgh, & Harlequins, plus 33 caps for Scotland), who was followed to the UK briefly by his brother Sep Visser (8 appearances for Edinburgh), and also Zeno Kieft (68 appearances for La Rochelle). Now in just the past two years twice as many young Dutch players have joined professional clubs as did so in the previous 20.
Firstly in 2016 lock Koen Bloemen and number 8 Kevin Krieger were among a group of Dutch players given trials at Montpellier which led to them successfully winning contracts, both of which have been subsequently extended. Krieger who is described by his national team coach as "a beast" for who "the sky is the limit" has been gradually growing into a similar build to that of his clubmate Louis Picamoles, and already at just 19 years old become a starting player for the Dutch senior team.
Stan van den Hoven received superb
reports in NZ with Bay of Plenty U19
Also soon to be joining him in New Zealand is dynamic back rower Dave Koelman, who last season was awarded a scholarship deal to play in England and was part of the Leicester U18 Academy side that were English champions. He apparently had an offer to stay at Leicester, but instead opted to further his rugby education and take up an opportunity to play at North Harbour instead.
Video: Dave Koelman's ball carrying playing for Netherlands U18 a year young in 2017
Whilst most recently after the Rugby Europe U20 Championship two more Dutch players signed contracts with Aurillac, one of the top 8 Espoirs teams in France. First announced was another back rower Jesse de Vries, and then fly half Jasey van Kampen, who had just spent a year at Le Havre in the lower Fédérale leagues who he joined specifically to work with ex Gloucester fly half Ludovic Mercier as coach.
Video: Jasey van Kampen's sensational match winning fly half performance vs Romania
Others who may join them in the future include Siem Noorman, the youngest member of the senior national team having made his debut at 18 last year and scored 3 tries in 5 matches in the Rugby Europe Trophy this season, another who was part of that first trial at Montpellier and who has talked of his desire to play professionally. Or also the talented prospect at scrum half Lorenzo Groos, who like Koelman still has years left to play at U20 level.

For that many players from one single U20 side from a Tier 2 nation to move to professional clubs abroad is highly unusual. The fact it they are from the Netherlands of all places, and that one of those players is a fly half which is a position of such rarity for any player outside Tier 1 to reach a high level, just makes it even more so.
To put it in context, the only other Tier 2 nations this year with more U20 players signed to professional clubs is Georgia, and they had an U20 team beating 6 Nations sides and competing with some of the best U20s in the world, plus have a well established link to France with around 60 players currently contracted to Top 14 or Pro D2 clubs. Netherlands U20 this year came 4th in the Rugby Europe U20 Championship (although they looked a more talented group of players than that placing, which was nevertheless still their highest ever, would suggest) and only had one player in Kieft back in 2010 ever sign for a French team in the professional tier.

So what are the possible reasons behind this?
First of all obviously some of these Dutch players have shown a lot of potential and displayed some impressive individual performances. However the step towards the professional level is not that simple, and a lot more than that is needed to make it. Many other talented players from European nations have not taken that step. Indeed the Rugby Europe U20 Championship winners and World Rugby U20 Trophy runners up Portugal, who have the best age grade setup of any European side outside the main U20 Championship, have seen zero of their leading talents this year or last, such as hooker Nuno Mascarenhas or full back Manuel Cardoso Pinto, recruited by professional teams.
One of the things you also need is ambition to move in the first place and to form connections. That ambition as part of Rugby Nederland's "route naar de top" (route to the top) strategy is pretty clear. Summed up
in an article in
de Volkskrant
the Union's philosophy is for young players to "gain experience in strong English and French competitions is the best way to get better quickly" and to work towards their goal of promotion to the REC and ultimately becoming a contender to qualify for the RWC.
Another group
were invited to trials at Montpellier last year
as well although none on that occasion got contracts. The articles on the Dutch players at Montpellier say they were scouted at the Rugby Europe U18 Championship in 2016. However scouts do not typically tend to have a keen eye on those tournaments, and no other team involved has had groups of 6-8 players getting trials in France. What seems more likely is Rugby Nederland made some sort of connection with Montpellier to arrange those trials as part of this strategy.
It was also Rugby Nederland who part organised a scholarship for two players to travel to England to play at Stamford College, which led to Dave Koelman getting an opportunity with Leicester (the other part the players used crowd funding in order to take the opportunity). Whilst Stan van den Hoven received a full international scholarship to train at the "Inside Running Academy" in New Zealand, presumably something also at least part organised by Rugby Nederland as there were also a couple other Dutch players there as well, which led to him impressing enough to get selected to Bay of Plenty U19 and later the New Zealand U20 training squad.
One of the Dutch regional Academies also has a formal partnership with a school in South Africa that has seen some players, one being Jasey van Kampen, spend a year there on a full scholarship after being
selected by former Springbok full back and now Sharks scout Brent Russell
.
This group of players seems to have the desire, support from family, and backing from the Union to make the sacrifices needed travel overseas away from friends and family at a young age to pursue their dream of making it as professional rugby players. For some other European Tier 2 nations, especially Portugal, neither that ambition or support seem to be there at all to anything like the same degree.


Neither of the most succesful Dutch players to play professionally have contributed much to the national team. Tim Visser played for Scotland and Zeno Kieft hasn't played international rugby for years (although he said in an interview this year "the door is always open" for a return at some point).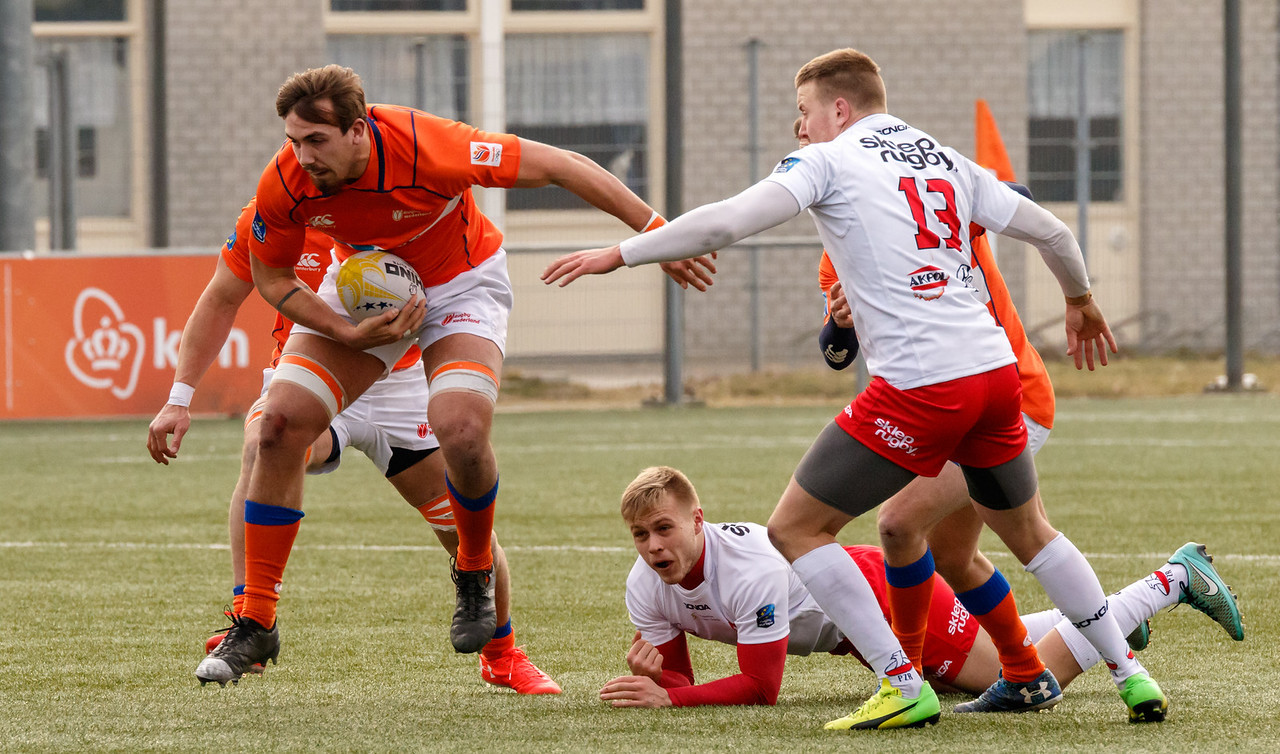 Kevin Krieger playing against Poland in March during a win
that took the Netherlands to their World Ranking high of 26th
When Visser made his debut for Scotland back in June 2012 that was a totally different time though, the Netherlands were ranked 47th, lost 10 of their last 11 games, and were down in the fourth tier of European rugby, plus unlike these players he did not progress through the national Dutch academies and age grade system (which incidentally has tied nearly all of them to the Netherlands as they had U20s as their designated second team last year), nor had the assistance in moving abroad.

These young players are much more connected to the national Dutch development program, and seem committed to the overall national team project and the goals it is working towards.
It will be interesting to follow the progress of these players over the coming years and see whether they will be able to fulfil their ambition to successful careers at professional clubs playing at a high level, and whether Rugby Nederland's strategy will further the upward trend the team has been taking lately.