Recently World Rugby CEO Brett Gosper
mentioned that expanding the RWC to 24 teams
is a discussion that is now on the table and could possibly happen by 2023 if progress from lower ranked sides against Tier 1 in 2019 is good enough. Here is a look at what that tournament could look like and why whilst any expansion would add some weaker teams it does have some arguments in its favour.
The RWC trophy on tour in Germany
The possible 24 team RWC format
The current RWC format of 4 pools of 5 teams has been criticised as inherently flawed on the basis that the uneven number of teams in each pool will always mean unequal rest periods.
That has been used as an argument for the 24 team RWC, which could come in either two forms, six pools of four under the
1982 FIFA World Cup
format, or the 1986-1994 version which was also used for the recent
UEFA Euro 2016
.
However both those come with issues as well. The problem with the latter is with 16 teams advancing to the second round it turns the pool stage into somewhat of a non-event. The only intrigue in terms of qualifying would be which of the third pool seeds beat the fourth seeds by enough of a margin to get the requisite points difference to progress. Although other matches perhaps could still maybe carry some importance in the context of securing a better passage to the final.
The 1982 FIFA World Cup format creates a little more tension in the pool stages, and removes the unsatisfactory "lucky points difference winner" element of getting through to the next round, however also comes with problems in its second round phase of matches that act to decide the semi finalists.
A second round format of 12 teams split between 4 pools of 3 would revisit the unequal scheduling issue of an uneven numbers in pool, as well as creating the potential for some dead rubbers at a point when the tournament should be approaching its most important stage.
So really none of these formats in either 20 team or a 24 team RWC are perfectly ideal. The 16 team second round is probably the slightly better of the two 24 team options should expansion happen though.
4 team pool much better for all Tier 2 nations
It has been well documented that some Tier 2 nations despite having the least capable to manage from short 3 or 4 day turnarounds between matches with less depth than the biggest nations have got them the most often. There are numerous cases where this has had a notable effect in different ways.
The two biggest upsets at the past two
RWCs has seen a Tier 2 side not reach
the quarter final after failing to win a
match off a short 3 day turnaround
Firstly it has arguably stopped teams reaching the quarter finals. In 2011 Tonga opted to play their strongest team for the tournament opener against New Zealand but then had to play Canada only four days later. They ended up losing that match, so their win later in the tournament against France didn't get them to the quarter finals. It's possible they may have lost that match anyway, but it would have surely helped had they not had to rotate their team for it, whilst the alternative of playing a second string and resting players for the opening match would have kicked the tournament off on a bad note.
Also at that tournament we saw Samoa lose their key match against Wales which they also played off a short turnaround. For that game they had lost two notable starters who took small knocks in their first game against Namibia and may have recovered in a week but not in three days. One of those was particularly crucial in first choice fly half Tusi Pisi, as his replacement Tasesa Lavea had
an absolute shocker against Wales
. Again it's possible Samoa may not have won anyway, but it would have been different, and they did lead that match past 60 minutes before fading over the last quarter.
Whilst in 2015 we saw Japan's quarter final hopes end against Scotland where they were only 12-10 behind at 45 minutes but faded badly conceding 33 unanswered points over the last 33 minutes. That was especially tough for them as they were not only playing two matches in four days, but two of the top 8 teams within four days, and after such an effort against South Africa it was always going to be tough to have the energy to repeat that again.
We have also seen those turnarounds effect matches in terms of resting players. In previous tournaments Japan had fielded reserves against the big team in their pool in Australia in 2007 and New Zealand in 2011 to rest players for more winnable matches (it's likely most other coaches would have done the same against South Africa in 2015 and we'd have never had that all time classic match).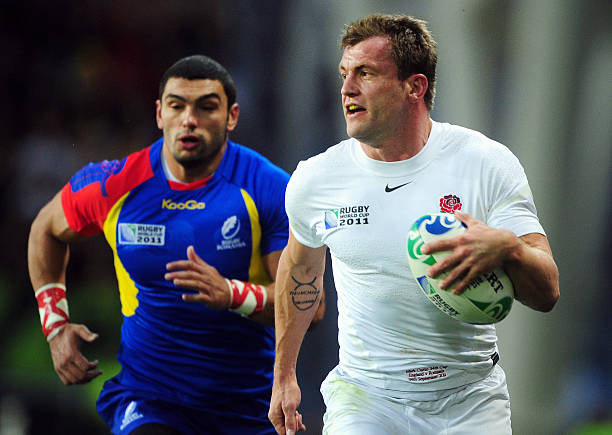 Some of the most utterly forgettable
RWC matches in recent times such as
Romania vs England in 2011 have been
when Tier 2 teams have fielded second
string sides up against Tier 1 teams
Numerous other teams have done this too. For example Romania fielded reserves against England in 2011, as did the USA against Australia in 2011 and South Africa in 2015 in order to target the next match in three days against a more winnable opponent. In all those cases a match between a Tier 2 nation's second string and a Tier 1 side have been some of the worst and most forgettable of the tournament. Only rarely do you get an exception like Georgia in 2015 who gave a credible effort against New Zealand in spite of resting several players.
Many of those who complain of more blowouts in a 24 team RWC don't understand that whilst there is the potential for that, you would also get the chance to schedule the matches better in a way that reduces some of those sorts of matches as listed above where teams do not put out their best (indeed none of those teams would be likely to still field a second string in any match with points difference playing a role in whether they got to the next round or not).
It also means Tier 2 teams that do achieve an upset a more likely to get to a quarter final from it. In the 24 team format that France vs Tonga result would possibly have come in the last 16 for example.
One less match for the 8 weakest teams also makes sense. It is easier for a team like Namibia for example to put their strongest effort all into three matches. In both the previous RWCs in 2011 and 2015 they have played their best team throughout on a tight schedule and run out of steam by their final match against Wales (especially the second half) or Argentina despite some better earlier efforts. Same also could be said of Uruguay in the second half vs England in 2015, or Georgia vs France in 2007.
Concerns of more blowouts somewhat overblown
As already explained the existing 5 team pool format already lends itself to some larger margins than possible with 4 team pool. Both with matches involving weakened teams like USA vs South Africa 2015 and Romania vs England 2011, or with the weakest team in the tournament Namibia playing their best team on one of the tightest schedules in 2011 and simply having nothing left by the final match.
Any expansion would though obviously be including weaker teams. However the likely four added entrants are not so far off the existing participants that we will necessarily see a return of 12 plus tries conceded in a match. Romania and Spain are the obvious ones who both are ranked in the top 20 teams right now but missing out next year due to eligibility issues.
The next best others are probably Germany (at least the version not wrecked by political infighting) and Hong Kong who are a step down but with a full two months of preparation should be able to at least match USA's second string effort against South Africa. That admittedly is not particularly great, but the point is that if you account for possibility of reducing those Tier 2 second string matches then there wouldn't be all that many more blowouts in a 24 team competition compared to how many there already are currently in the existing 20 team one as some might expect.
Fiji in 2007 are the only team in the
professional era outside Tier 1 sides to
have reached a RWC quarter final
Really it is the repetitiveness of the quarter final lineup that is more of the problem for the tournament than the bottom end now. In the professional era only Fiji in 2007, who were fortunate enough to run into a Gareth Jenkins coached Wales team, have broken the hold the same 9 Tier 1 sides have had on the last 8 RWC lineup over the professional era. Whilst the list of genuine potential finalists and winners has not exactly increased much over that period either.
Perhaps the strongest argument against a 24 team RWC is that expanding the list of quarter finalists needs to be the focus before expanding the list of qualifiers. Although as also already noted, Samoa and Tonga in 2011, and Japan in 2015 would have had their chances of breaking into that quarter final lineup increased rather than decreased in a evenly pooled 24 team format.
Short term pain for longer term gain
Also we are of course speaking about all this in the present moment. The strongest argument for a 24 team RWC lies in the boost to the sport it would bring to all the new participants over the longer term.
A classic RWC moment that would have
not happened had the RFU won their bid to
host in 2007 and cut the tournament to 16
For some of the most improved Tier 2 sides in World Rugby that progress is likely to have been significantly slower if they had not benefited from the RWC's last expansion to 20 teams.
If the tournament had always remained at 16 and the USA likely missed out on RWC qualification to Canada for the last 20 years would they have been in a position to finally launch a professional domestic league and take a historic Tier 1 scalp against Scotland this year? It's doubtful. It's also unlikely Georgia would have progressed as fast as they have done without the opportunity to make their initial RWC debut in 2003.
That expansion also cut off the opportunity for Rugby League to get ahead of Union in certain territories. No doubt if the USA had spent the past 20 years outside the RWC then the ground may been riper for League to have had a better chance of trying becoming the more dominant code there. Also potentially in parts of Europe too. That is extremely unlikely to happen now though and it is thanks to the expansion in 1999 to 20 teams. Also if one of Fiji, Samoa, and Tonga always had to miss out every RWC the sport may have faced difficulty than it has in keeping their interest on Union up against League as well.
Whilst it may have added more blowouts especially over the first two or three editions, that move to 20 was clearly a very wise move in the longer term for the global game. Also as a side note rugby history should look back unfavourably on the blazers at the RFU for campaigning for the RWC to be cut back down to 16 teams in 2007.
Uruguay may have lost all their matches
at RWC 2015 by wide margins but from
that appearance have since progressed
significantly both on and off the field
A more recent example of a nation whose progress has been accelerated by a RWC appearance is Uruguay. They were arguably the weakest team at RWC 2015 and got put in the pool of death, but since then rugby in the country has improved both on and off the field and Los Teros will now arrive at RWC 2019 a far more professional outfit and with new a South American professional domestic league on the horizon in the 2020s.
It is not possible to look precisely into the future, but expansion to 24 would potentially bring similar benefits in terms of accelerating the sport's growth in the beneficiaries of that expansion as well even if they were not all impressive on their debut tournament. Those would notably be nations like Germany, Spain, or Brazil who have all beaten regular RWC nations over this 4 year cycle.
What above all brings most improvement to a nation is is more money and participation in the sport's showpiece event would add much more sponsorship, and interest to reach right back down right to the grassroots of the system. Also of course the participation of more countries and growth in audience in those territories would have the potential to bring more money and sponsorship to World Rugby too which is why the move has been mooted in the first place.
Brazil and Spain are two potential nations
who would benefit from a 24 team RWC
So should the expanded 24 team RWC happen?
Anyone who cares about the sport's global growth should agree an eventual expansion is desirable at some point, but the debate about when the time is right ultimately comes down to personal judgement. However for what it's worth from my personal point of view the pros of the 24 team RWC (a possibly fairer pool format that allows better performance from Tier 2 sides and a significant boost for the sport's growth in new territories) are hard to ignore and outweighs the cons (a dilution of quality with more teams who have no quarter final hopes and a less exciting pool stage where it is harder to get knocked out than get through) and I lean towards that happening as soon as 2023.
However whilst the sport has perhaps found more teams perhaps becoming more competitive amongst the lower ranked sides at the RWC over this cycle and the qualifying campaign (apart from in Africa) has in general been more competitive than 2013/14. The competitiveness of Tier 2 up against Tier 1 (excluding Italy) and the repetitiveness of quarter final lineups remains something that still needs to be improved upon. That is another topic, but the shut door to all the sport's major tournaments outside of the RWC is a problem and expansion is probably more badly needed there than at the RWC.