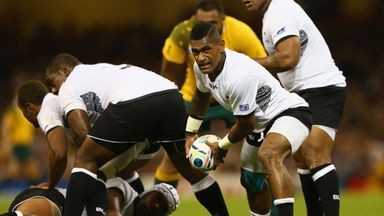 Fiji (vs Barbarians, England & Japan)
Fiji are one of the few Tier 2 sides not to have had a major post-RWC overhaul, and the squad remains very similar to the one that played at the World Cup last year, with just a few fresh faces in the pack. Even with some middling performances at home in June, where they were minus players involved in the French playoffs and had a few players involved in Olympic 7s preparation, they are still probably the strongest Tier 2 side at present.
This November Fiji only play two tests with an extra Barbarians fixture beforehand in Belfast (a bit of a curious venue for a fixture that sold over 70,000 tickets in 2013), which has allowed for McKee to hand opportunities to a couple of new players who were part of Fiji Warriors impressive recent run of form.
England at Twickenham looks like tough ask for a side that has had little time together over the past 12 months, it may be hard for Fiji to keep it as competitive as the 2015 RWC opener (where the scoreboard didn't quite do justice to Fiji). Whilst Japan in Vannes, considering the state of the Cherry Blossoms, ought to be a routine win for the Fijians (although they did nearly mess up a similar fixture against the USA two years ago).
2016 has really been a year where the 7s side has taken the limelight in Fijian rugby. But the 15s side has quietly ticked over, putting themselves in a strong position to qualify for RWC 2019 as the top Pacific Island side despite not being at their best. If they can leave this November with two wins that would be satisfactory, and should give them confidence heading into 2017, where they can finish the job of being the fastest RWC 2019 qualifier, and play more big Tier 1 tests (Australia already being booked for June).