A short look a

t Japan's preparation, build up and squad for the tournament, as they hope to improve their damaged reputation, and win a World Cup game for the first time in 24 years.



Eddie Jones came into the PNC labelling it a 'training tournament', particularly in regards to the match against USA where he fielded more of a second string side saying he did not want to give anything away to his RWC opponent.


Japan certainly didn't really hit their best form in this 'training tournament', and were at times frustrating to watch, with some baffling decision making at times.
Notably the Cherry Blossoms completely outplayed Fiji, yet gifted them the game with some really soft tries in the space of about 10 minutes, and even then should have come back to recover the win, only to opt to push for a scrum penalty try late on that chewed up the clock when their maul was dominant.
That was crazy, and what made it worse it Japan made precisely the same mistake against the USA the previous week, where they could have made a confidence boosting win over their RWC opponents on their home turf without even their best team.
Jones' team then followed that up with another loss to his bogey team Tonga, who Japan simply don't seem to turn up against in recent encounters, and discipline was particularly sloppy.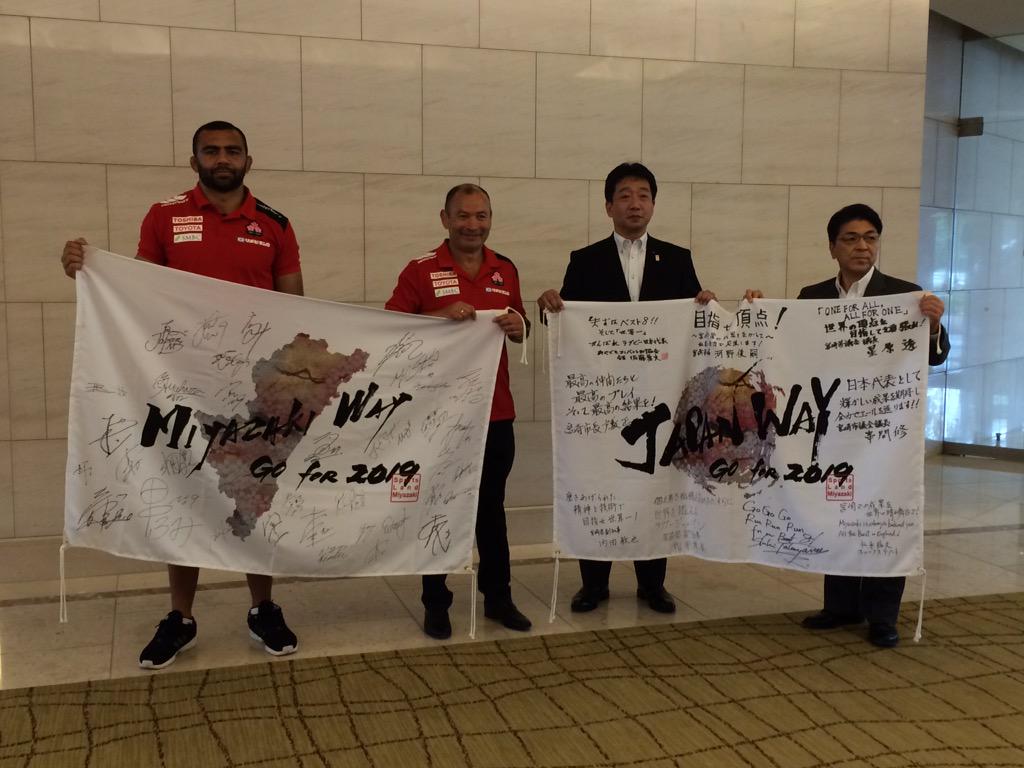 Captain Michael Leitch and coach
Eddie Jones with some suits from
Miyazaki after completing their
training camp there.

Prior to that Japan have had one of the longest camps of any team, working very hard on fitness in the facilities at Miyazaki. There were actually rumours of some grumbles of players being worked too hard.

But since the PNC they have been very much on game mode, playing a further four games against a very strong World XV side, Uruguay twice and Georgia.

Even despite the loss to World XV which was made of many well known players of the SANZAR nations such as Carl Hayman, Berrick Barnes, Taqele Naiyaravoro, Bakkies Botha or Andy Ellis, where again too many soft tries were conceded, as per usual out wide, and from turnovers or up and unders. The extended run of warm ups have been very useful.

No new major injuries arose, and both Shinya Makabe and Amanaki Lelei Mafi could ease their way back from long term injuries, and the squad which is often light on tough intense matches that Top League doesn't always offer got more test level matches.

Uruguay were considerably weaker than anything they face at the World Cup, but Japan were able to build some confidence back from facing them after the four straight losses, and then beat Georgia with a try off a maul a couple minutes from the end and head into the tournament on a high.
GIF: Japan's match winning maul in the final few minutes against Georgia saw the
team come into the World Cup with some better confidence.
That somewhat lifted the negative mood in the Japanese press and fans that followed the poor performance against Tonga, Eddie Jones' announcement of his departure, the shambles of the Super Rugby side and 2019 World Cup.

The set piece has been phenomenally successful throughout this year, and has improved dramatically since 2013. Ironically though, whilst that has allowed them loads of possession, they have struggled to actually punch over the line, and must be the side in world rugby with the very worst possession to tries ratio.
Video: This clips sums up a lot about Japan rugby, as they pounded the Maori All Blacks
throughout the first 6 minutes yet came away with zero points on the board. Japan lost
this game in the dying minutes which was a sickener for them as they controlled so much of it.
Defence hasn't been that bad, but is still often prone to lapses, which has been enough to prevent Japan winning in low scoring games with their lack of clinical ability to get points on the board.

Although Ayumu Goromaru has been in good kicking form this year which has to a degree allowed them to get some good points totals. If Amanaki Lelei Mafi can rediscover his pre injury form of last November he could be a star of the pool stages as well.
GIF: Amanaki Lelei Mafi, seen here sending Maori All Black number 8 Elliot Dixon
onto his backside, was a revelation from last November, but suffered a serious hip injury
a month later which he's only just comeback from. His speed, dynamism and skill can
offer a different dimension to Japan if he rediscovers that November form.
Japan has been given another rotten schedule at this tournament. Playing South Africa and Scotland, two tough teams within four days to start with.

In previous tournaments Japan have thrown their reserves to the likes of Australia and New Zealand to rest players for other matches. But that damaged the image and reputation of Japan rugby with some very heavy defeats, and not produced any wins in the other matches anyway.

So in this tournament, even though it may compromise their chances and leave them fatigued later on, Eddie Jones said he will play his best side throughout.

Saying if they threw their reserves to South Africa and lost horribly it would burn morale in the camp from start, and also do nothing for Japan's reputation which has already been damaged by such bad losses to Australia and New Zealand in the past two tournaments.
Eddie Jones' side has been given
a far from ideal start to the World
Cup in terms of rest, but he has
decided to play a stronger team
throughout instead of the throwing
the reserves to South Africa, so
to gain respect and not damage
morale. In 2007 & 2011 Japan
had similar schedules and did
throw second string sides to
both Australia and New Zealand.

Jones actually said fans at Japan's official welcome ceremony patronised the team and thought they were a joke, saying things towards 'good luck in keeping it under 100 points', which is a legacy of the disaster results such as 1995 and 2004 he wants to change.

Japan will have wanted a better schedule ideally, but will just have to hope the team survives those matches with South Africa and Scotland with respectable results and injury free before playing Samoa and USA.

Whilst underdogs, they are closer to the Pacific Islands in level than some believe, and unlike Tonga have actually played well against Samoa under Eddie Jones. In 2012 they missed a late conversion to lose by one point to a very strong Samoan lineup. In 2014 they easily beat a Samoa 'A' lineup.

The main question is how they deal with the threat of the jackler Jack Lam. Over the past year, part of the reason Japan has failed to convert possession into tries is due to how they've struggled to combat the jacklers at rucks of the opposition.

They concede a large number of penalties and turnovers at ruck in attacking possession, and even when they don't, the ball is often slowed down with huge numbers drawn into protect the ball, leaving the attack outnumbered and possession slow and of poor quality.
GIF: Japan turned conceding a penalty at a ruck after a jackal (who had blatantly not
released the tackled played by the way). I could point to dozens of examples of this happening
to Japan. Often players not supporting weight or not releasing. Japan simply haven't been
able to adjust to counteract this without putting absurd numbers into rucks. Even Uruguay
were cashing in with turnovers, whilst Japan themselves barely ever win holding on penalties
themselves and have no natural jackler. This is a very major issue for Japan at the tournament.
This is why so many of their tries have come from the efficient and clean set piece platform, not so much from all the phases they've gone through in attack.

Against Samoa or USA in particular, they will not want to get drawn into a battle of collisions which will happen if there is slow ball, so dealing with Jack Lam or Andrew Durutalo is essential, and help from the referees to be strict on players not supporting weight is also vital too.

This has been such a big issue for Japan, and it will be interesting to see if Eddie Jones has any answers for it. If he does Japan should get at least one win, possibly two, which although quarter finals is the official target would be a success. If not they will be left to just relying on their set piece as they were in the PNC.
---
Fixtures:
19/09 -
South Africa | Brighton | Ref: Jérôme Garces
23/09 -
Scotland | Gloucester | Ref: John Lacey
03/10 -
Samoa | Milton Keynes | Ref: Craig Joubert
11/10 -
USA | Gloucester | Ref: Glen Jackson
---
Squad:
Loosehead Prop: Masataka Mikami (Toshiba Brave Lupus) has been the first choice since his debut in 2013, but Keita Inagaki (Panasonic Wild Knights) who has been battling injury with late is a great prospect.

Hisateru Hirashima (Kobelco Steelers) was unlucky to miss out with just four props taken, but has picked up injuries lately anyway.
Hooker: Shota Horie (Panasonic Wild Knights) has returned from neck surgery to resume his position as first choice, good ball carrier, and in set piece, but a teddy bear in collisions. Takeshi Kizu (Kobelco Steelers) will be the second choice, with Hiroki Yuhara (Toshiba Brave Lupus) the third choice.
Tighthead Prop: Kensuke Hatakeyama (Suntory Sungoliath) has long been the established tighthead, and vice captain of the side. Hiroshi Yamashita (Kobelco Steelers) second choice behind Hatakeyama, has recently been filling the old Adam Jones role of starting and subbing off at 30 minutes.

Shinnosuke Kakinanaga (Suntory Sungoliath) was another unfortunate to miss out with just four props being taken.

Lock: Luke Thompson (Kintetsu Liners) has regained his position as a regular starter over the past 18 months, and will likely be partnered by Shinya Makabe (Suntory Sungoliath) who although not that tall for a lock offers big bulk of 118kg and has just recovered from a long injury to make the squad. Veteran Hitoshi Ono (Toshiba Brave Lupus) the most capped Cherry Blossom ever, and the more lightweight Shoji Ito (Kobelco Steelers) make up the other options.

Back Row: Michael Leitch (Chiefs) leads the side and is the standout forward who finally got his opportunity in Super Rugby this year. There are number of options who could join him, Michael Broadhurst (Ricoh Black Rams) is not a classical openside, but an excellent lineout option. Justin Ives (Canon Eagles) was the first choice six last year, and another lineout flanker, who managed to make the squad after a horrible looking injury just before the tournament. Hendrik Tui (Reds) is the ball carrying option, who has played at 6, 8 and recently on the wing for Japan. Amanaki Lelei Mafi (NTT Shining Arcs) was a revelation last November, only to suffer a long term hip injury which he has only returned from this past month, but will be huge if he replicates his form early on in a Japan shirt. The other option at 8 is Ryu Koliniasi Holani (Panasonic Wild Knights) who is a long serving member of the team now, but not as fast or dynamic as Mafi.
Scrum Half: Fumiaki Tanaka (Highlanders) is one of the best known players in the team and a character in the side. Atsushi Hiwasa (Suntory Sungoliath) is the back up, although not quite lived up to the hopes of matching Tanaka at international level.

Fly Half: Harumichi Tatekawa (Kubota Spears) is at the fulcrum of the backs and a very gifted player, with an excellent work rate, and a brave defender. Kosei Ono (Suntory Sungoliath) is the back up option, and also will cover scrum half, and offers creativity but not as consistent or reliable as Tatekawa. Toshiaki Hirose (Toshiba Brave Lupus) is regarded as a good influence in the squad, although really just offers utility at fly half and wing than a starting option.

Centre: Male Sa'u (Yamaha Jubilo) despite some bad hands, is an important member of the backs and a main threat in terms of line breaks. Yu Tamura (NEC Green Rockets) was originally more of a 10, but has developed into the first choice 12. Other options include Craig Wing (Kobelco Steelers) who has regained his place in the squad after missing all of 2014 injured, and Kotaro Matsushima (Suntory Sungoliath) who an exciting player at outside centre and wing.
Wing: Yoshikazu Fujita (Waseda University) a real hard working young player and good finisher, who has developed into a valuable starter unusually quickly for a Japanese player, he will also cover full back. The battle for the other wing spot is close between Akihito Yamada (Panasonic Wild Knights) who is a prolific finisher in the Top League, and Kenki Fukuoka (Tsukuba University) who is lightning fast, however both come with defensive frailties. Karne Hesketh (Munakata Sanix Blues) is the stronger defensive option, and can also cover centre.
Full Back: Ayumu Goromaru (Yamaha Jubilo) is the goal kicking full back, and also offers a big boot and physicality in open play too, although sorely lacks pace of some elite full backs.