With 2018 coming to a close we look back at the top three nations who all had good years and recorded landmark achievements over the past 12 months.
Fiji celebrate their win historic over France
Fiji
Fiji's first few matches of the year were not particularly remarkable and included a surprise home defeat to Tonga with a possibly tired team in June off the back of a long European season, and also a wide defeat away to Scotland in the first week of November with little preparation.
However the last two tests of the year were superb. First Fiji annihilated Uruguay putting them to the sword with ease at Hartpury College for a 68-7 win which was their largest ever against top 20 opposition, then followed that with a well deserved victory over France, their first ever win away from home over a Tier 1 side in the professional era. That result took them to an all time ranking high of 8th, only the second time a team outside Tier 1 has ever gotten that high after Samoa in their successful 2011-2013 period.
Video: Leone Nakarawa's offload to Josua Tuisova for one of Fiji's disallowed tries vs France
In addition to the national team performances, the U20s won promotion back to the main U20 Championship, the home based Fijian Drua won the NRC, and had several players such as Leone Nakarawa, Peceli Yato, Semi Radradra, Nemani Nadolo, Josua Tuisova recognised as amongst the best in the Top 14 or Champions Cup for their form with their clubs in France.
The mood around Fijian 15s rugby has never been so positive as it is now, they have arguably the strongest and most talented team anyone outside Tier 1 has ever had in the professional era and have a genuine chance with proper preparation time to try and achieve something special at the RWC. Hopefully in future there can be some momentum behind them getting those players better revenues and preparation time as part of involvement in major elite Tier 1 tournaments in the future.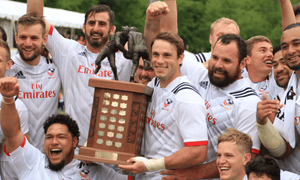 USA after a very successful June series
USA
In their first year under new coach Gary Gold the USA had without doubt their best ever year in the professional era. First they won an ARC Grand Slam in convincing fashion, then followed that up in June with dominant wins over Russia and Canada and a first ever win in living memory against a Tier 1 side in a thrilling match against Scotland in Houston, then in November finally ended a 19 year 17 match losing streak against Pacific Island opposition with a last minute win over Samoa.
There still of course remains a lot to work on for the Eagles which the Ireland result was a reminder of and fans should be way of getting too carried away. However having said that 2018 will be a year they will look back on fondly, not only for the Eagles improved results, but the launch of the MLR which unlike previous attempts at pro rugby appears more likely to hopefully stay around.
Video: Paul Lasike put in a series of powerful performances for the USA in his debut year of international rugby
USA are for the first time fully professional, and now have probably their best collection of forwards they have ever had (albeit still with no top class scrummaging tighthead), plus their best in the problem area fly half and goal kicker with back up options (albeit still not homegrown ones), and saw Paul Lasike burst through into the team phenomenally well from the NFL this year. It will be interesting to see whether the MLR throws up any new bolters from outside the squad who could make an impact to boost the team and increase options that will needed for a tough schedule at the RWC.
Brazil staged one of the biggest comebacks
in rugby history for a first win vs Argentina XV
Brazil
The Brazilians had their most amazing year of progress yet in 2018. Numerous of their achievements this year would have been simply been pretty much unthinkable as recently as 5 years ago.
The Tupis opened the year with a first ever away ARC win over Chile in Santiago, which was particularly notable as while they had made progress in recent times their away record still was woeful. Also five years ago remember Brazil had one win over Chile in 20 attempts, now won three of the past four. They should have also taken the scalp of Uruguay for the first time the week after as well, where they led 18-3 at half time, and still led past 70 minutes but the match just slipped away from them.
Most remarkable though was their 36-33 upset of Argentina XV in Buenos Aires (not quite as good as the one Uruguay beat but still notably had Tomás Cubelli plus some other fringe Jaguares players), where they came from 33-3 behind at 58 minutes to score 5 tries in 22 minutes with a try at the death to win. For context in 2012 and 2013 Brazil lost 111-0 and 83-0 to Argentina XV, by the time Brazil scored a consolation try in their 42-7 defeat in the 2016 ARC, the Argentines had scored 236 unanswered points in matches against them. In 2017 the result was also 79-7. This year in two matches Brazil lost only 28-8 in the ARC (14-8 at half time), and before the historic first win.
In addition to this Brazil also upset Georgia XV in Tbilisi, and up against probably two of the strongest lineups they have ever faced in Racing 92 and Maori All Blacks kept both below 50 points, the latter of which was held in front of a record 34,000 home crowd and
memorably monstered the Maori scrum
.
Video: Brazil destroy the Maori All Blacks scrum
Indeed Brazil didn't concede over 50 points all year (the one truly dud performance was a 45-5 loss away to Canada), whereas in 2017 they conceded over 50 four times (all away from home). In 2013 Brazil lost 68-0 at home to Portugal, to now not concede over 50 against the level of opponent they faced this year is impressive progress especially for what is a very young team. It will be interesting to see whether they can continue to progress in 2019 and how they fare as hosts of the U20 Trophy.