On 1 July 2019 Romanian rugby celebrated its 100th birthday. Here we take a quick look back to summarise that past century.
Early days

Rugby was first introduced to Romania by returning students who discovered the game in France. Their first recognised international test match was one with a Romanian military team in 1919 at the inter-allied tournament against the USA Army and French Services.
Romania playing their second ever international match in 1919 vs French Services
However the Romanians had very limited success in these early days. In 1924 they "won" an Olympic bronze medal in a tournament with just two other teams who they lost by a combined score of 98-3 (which was with 3 point tries so in today's scoring is equivalent to about 140-3).
Indeed Romania only won 2 of their 18 internationals before the start of WW2. Only beating the Czech Republic and Netherlands, but otherwise mostly losing to France, Germany, & Italy.
Huge crowds and Romanian rugby's rise in the 1950s and 60s
It seems unthinkable when you look at the size of their crowds now but Romania has hosted one of the largest ever crowds for a rugby match. In May 1957 around 95,000 watch the Oaks play France where the home side lost narrowly 15-18, which was apparently considered a big surprise at the time for the French who had always beaten the Romanians easily in the pre-WW2 era.

Around 95,000 in Bucharest watch Romania vs France in 1957
This was the largest of a few very sizeable attendances to watch rugby in Romania, and it was soon after this in the 1960s when their rugby began to really take off. They scored their first ever win over France on their next visit in 1960 in front of 55,000 (according to ESPN Scrum), and also beat them two more times in that decade in 1962 and 1968, and also had two away draws in 1961 and 1963.
Romanian talisman of the 1960s Radu Demian who was nicknamed the
"Carpathian giant" by the French after his big performances against them
Notably in the 1960s France won five 5 Nations titles including Grand Slam in 1968, and were
the most successful side in the competition over that decade
, so the Romanians record of 3 wins, 2 draws (both away from home), and 5 losses vs France in the 1960s was not bad against the best in Europe.
Old footage of one of Romania's wins against 5 Nations Grand Slam winners France in 1968
There are also
photos from Swansea's tour of Romania in 1954
showing another large crowd of around 50,000 for a tour match against Locomotive Bucharest (where the home side won 22-12). So clearly these very attendances were not unknown at the time with even clubs getting large crowds.
A packed 50,000+ crowd for Swansea vs Locomotive Bucharest 1954
Also in the 1960s FIRA created a "Champions Cup", a continental tournament between all the champion sides from the likes of France, Romania, Italy, Germany, Spain, Portugal, and others. It was basically an early attempt at something like today's Heineken/Champions Cup only the British & Irish team never participated, so it more resembled today's Continental Shield plus France instead.
Unlike today though where the Romanian domestic champions struggle to be even vaguely competitive in the Challenge Cup against some of the lowest sides in English, French, or Pro14 leagues. Back then in the 1960s the Romanian champions were beating the French champions.
The tournament only existed on a bi-annual basis for three editions. After losing the first final to Béziers in 1962, CFR Grivita Rosie Bucuresti (formerly known as Locomotive CFR Bucuresti) won it 1964 beating Mont-de-Marsan 10-0, then in the last edition of the tournament in 1966 before it was discontinued Dinamo Bucuresti beat Agen 18-12 on aggregate over two legs.
A picture from the 50 year reunion in 2014 of the CFR Grivita Rosie
Bucuresti team that won the FIRA Champions Cup in 1964


Gaining respect on the world stage in the 1980s
For the 60 years of Romanian rugby, with the absence of a RWC, their schedule was restricted almost entirely to opponents linked to the FIRA Championship (with some exceptions here and there).
In those first 60 years and 125 tests, only 5 were against non-FIRA opponnents. After playing USA in the 1924 Olympics, it was another 49 years until they played a test against a non-FIRA side touring Argentina in 1973. It took them as long as exactly 60 years to play one of the Home Nations for the first time when they played Wales in 1979 (and it still took them another couple of years after they had shown competitive results for Home Nations to award caps for playing them).
So it took as long as the 1980s before Romania could really get some more opportunities against Tier 1 opposition other than France. Considering the Romanian's record against the French, in particular over the 1960s where they were the best in the 5 Nations, it seems very likely that they were denied a handful more scalps over Home Nations sides on the account of simply never playing them. It is also possible they were denied maybe a knockout stage run at a RWC on account of that not yet existing.
Footage of Romania's away win vs Wales in 1988
However that was not to be and the Oaks first got their chance to play all the Home Nations in the 1980s. They beat Wales (after losing their first match in 1979 by just one point 12-13 to a team who were 5 Nations champions and featured 12 Lions in their XV) both home in 1983 and away in 1988. They also beat Scotland in 1984, drew 13-13 to Ireland in Dublin in 1980, had a 15-22 loss to England at Twickenham in 1985, plus picked up a couple extra wins vs France.
Perhaps most memorable for Romanian fans though was the time the All Blacks one and only visit in 1981. Up against the world's best, the Oaks were competitive in a 14-6 loss. The game (played in front of 30,000 fans) is remembered though for a couple of contentious referee decisions where the Oaks pushed over the line twice, only to be judged as being held up by the referee.
One of the controversial "held up" calls to deny Romania a try vs the All Blacks in 1981
It is impossible to tell clearly from the footage, but the Romanians swear that those were tries, and according to their legendary scrum half and captain Mircea Paraschiv, the referee Alan Hosie from Scotland, afterwards admitted he was wrong and was scared to let a major upset happen (the Romanians have only played the All Blacks once since then at RWC 2007 at the back end of one of those horrible 4 games in 17 days schedules and predictably wasn't so competitive finishing 85-8).
One of Romania's best players of the 1980s Mircea Paraschiv
There is no doubt at this point though that Romania were the 6th best European nation and merited an expanded 5 Nations and the stage of a RWC to perform on. However unfortunately both came a bit late.
Decline in the 1990s and the early professional era
Romania were on the decline towards the late 1980s. Although there were the historic away wins vs Wales in 1988, France in 1990, and beat Scotland in 1991. They also were a bit more inconsistent and also had some heavier defeats over this time than previously, and their inaugural RWC in 1987 was not great with big losses to France and Scotland. As is well known the changing landscape of the country and collapse of communism obviously factored heavily into all this as well. Notably their captain and star player of the 80s Florica Murariu even getting killed in the 1989 revolution.
Over the course of the 1990s they were overtaken by Italy, and their competitiveness vs France disappear. Then in the early 2000s professionalism would only widen this gap between the major sides.
It was over this period when Romania suffered one of the most horrific defeats of all time 134-0 vs England in 2001. That match has often been used as a symbol of Romanian rugby decline (several British journalists were writing obituaries for Romanian rugby after that match), but whilst there is no doubt on the decline relative to previous decades and less competitive against top opponents, in reality that match was in fact a bit an odd outlier in just how bad it was. That tour was sort of the equivalent "Tour of Hell" suffered by England in 1998 or Japan in 2004.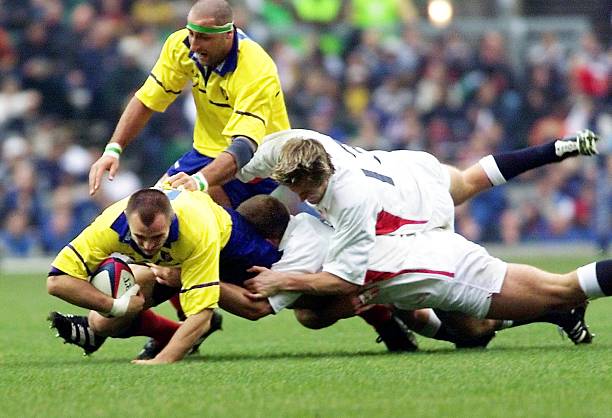 The worst day in Romanian rugby history vs England in 2001
The Oaks may have had some bad defeats before but nothing like that either in the years before or afterwards. That match remains over 50+ points worse than their second and third largest ever defeats to Australia and New Zealand which were at the 2003 and 2007 RWCs.
In general though this was an era in the early to mid 2000s was a tough one where almost all Tier 2 nations saw a relative decline in competitiveness against Tier 1. If you look at almost every Tier 2 nation who was playing Tier 1 at the time their record largest defeats are from this period. So Romania were basically just like every other Tier 2 nation in this regard.
Rebuilding to some better times but with unhappy back drop
In the modern era Romania still have produced some top level players who had standout pro careers in France. Petru Balan won two Top 14 finals with Biarritz, whilst Marius Tincu and Ovidiu Tonita also played for over a decade in the Top 14 including also being part of a winning team at Perpignan.
Romania's most celebrated player of the professional era Marius Tincu
Overall the Oaks have had a pretty underwhelming RWC history. However in 2011 despite a poor few years coming in to the tournament where they had been surpassed by Georgia as the leading REC side, and finished behind Russia so had to qualify through the Repechage, Romania produced their most memorable match when Tincu nearly led the side to a major upset vs Scotland. Romania led 24-21 going into the final 10 minutes, but unfortunately faded conceding two rather soft late tries.
Romania push over to take the lead vs Scotland at RWC 2011
Following that tournament
the 2005 U19 generation of players
took over senior roles in the side and Romania continued to produce an upturn in results. Between 2013 to 2017 they picked up wins over every Tier 2 side apart from Fiji and Japan and became a major bogey side for Canada who they beat coming back from 15 points down in a thrilling RWC encounter in 2015.
Over this period a fiercely fought Antim Cup rivalry between Georgia and Romania emerged as the Oaks tried to regain their position at the top of the REC. Usually won by the Georgians, but the contests were tough and Romania did finally get the title in 2017 after near misses in 2012 and 2013.
Romania win the Antim Cup vs Georgia 2017
This generation was probably Romania's most competitive of the professional era so far. Although it was also one that came with an unhappy back drop not of big crowds but rather empty stadiums at Cluj, being totally ignored as far as opportunities to play Tier 1 outside the RWC go, terrible junior results for the past several years, and then
being kicked out of the RWC after an eligibility fiasco last year
.
So the 100th year of Romanian rugby cannot be described as a particularly happy one. More than any other RWC regular, there are major concerns for their future competitiveness moving forward.