As the 2018 World Rugby Under 20 Trophy gets under way. Here is a look back at two particular age grade teams which have had a strong influence on the Rugby Europe Championship over the past decade. Plus the current strength of the Georgian youth setup, which this year produced possibly the best Tier 2 age grade team to date, and what this could mean for the REC heading into the 2020's.
Russia taking on Wales at the 2004
IRB U21 World Championship
Russia U21 (2004)
Their results at that World Championship were a long way from being one of the best Tier 2 age grade team. Up against the powerful champion New Zealand U21 team they were hit for a cricket score losing 110-3. Albeit in mitigation that was one of the best Kiwi age grade teams of the past 15 years after the legendary 2011 team, featuring 13 future All Blacks in the squad and 6 future RWC winners, and beat everyone at that tournament by a comfortable margin.
In their other matches they did not suffer quite so badly against the likes of Scotland (29-17), or Italy (33-20), before beating Tonga in the 11th place playoff which may sound like much but was almost certainly the best age grade team Russia has had.
To put it in context the Bears had a Word Ranking of 23 at the time, so just getting to the Championship to finish 11th was big jump ahead of that. In more recent years the Russians have struggled to even get close to qualifying a team to the U20 Trophy (and the last time they did in 2012 they were horrendous), let alone getting to the main U20 Championship again.
However what is most notable about this side is how many of the players went on to have lengthy international careers and still remain in the team to this day.
Now 14 years on from that tournament most players involved are now aged between 33 and 35 and in the latter stages of their career if not retired. In total 121 players between the 12 teams became full internationals. Only 11 of those have still been active in international rugby as of this year. They include Alessandro Zanni, Juan Manuel Leguizamón, Leonardo Ghiraldini, plus Alun-Wyn Jones and Ben Smith who at age 18 were two of the youngest players at the tournament.
The other six players who remain active this year are all from Russia, five of whom featured in the Bears most recent match against Canada in June, including four in the starting lineup.
Left to Right: Sergey Trishin, Yury Kushnarev, Andrei Garbuzov, and Evgeny Pronenko all who
were part of the Russia U21 team of 2004 lineup for the Bears most recent match vs Canada.
In all that Russia U21 team produced a massive 16 full internationals. 7 of those have won at least over 50 caps (plus possibly soon an eighth in Evgeny Matveev who won his 49th cap from the bench against Canada). It will certainly have the first ever Russian player to reach 100 caps in Yury Kushnarev, the Bears all time leading points scorer and fly half for 12 years who is currently on 99 caps, along with possibly another next year in 86 cap veteran Andrei Garbuzov whose career has now spanned 13 years.
The others in that team still active include 60 cap flanker Andrei Temnov, 55 cap centre Sergey Trishin, 54 cap tighthead prop Evgeny Pronenko. Whilst there were also other names in the squad which will be familiar to those who have watched Russian rugby. Such as their RWC 2011 captain Vladislav Korshunov, and full back Igor Klyuchnikov both of whom now have retired.
Together that Russia U21 squad has gone onto win a combined 624 international caps and counting, which is the all time record for a single age grade team. Several of those players have actually spent periods out of the side but Russia keep coming back to them.
Russia against Romania in 2008 during
their period as second best REC team
That squad also provided between 6 to 8 of the Russian team in each of those matches over that period of 2007-2010 where (also supplemented by a three or four from the year or two after like Victor Gresev and Andrei Ostrikov) the Bears had a hold over Romania, beating the Oaks several times as they finished in the top two of the REC three years in a row, qualified for their first RWC without even needing to go through the Repechage, and reached what remains their all time ranking high of 16.
However Russia never improved beyond that point. The Kingsley Jones era saw record losses to both Georgia and Romania and RWC qualification failure against Uruguay (things which coincidentally Kingsley is now repeating with Canada). Whilst under Alexander Pervukhin they rarely lost to sides ranked below them, but they also rarely made much progress in challenging those above them and got pushed out of the RWC qualifying places by Spain (albeit thanks to their ineligible player at 10).
The returns from their age grade sides in the U20 era have also been comparatively meagre. For example their last squad to have qualified for the U20 Trophy which was in 2012 (the year which provided without doubt the tournament's worst ever winner), the Russians finished last with some utterly terrible results and that group has since produced only four internationals with just 9 starts between them.
If we're being honest apart from Denis Simplikevich on the wing it has been a while since Russia produced a player of much significance. The fact not only that they keep going back to a chunk of that team from a decade ago, but by far their strongest and most influential debutant since their RWC appearance in 2011 is a 35 year old poach from Kazakhstan in Anton Rudoy pretty much sums that up.
From 2011 onwards the Romanians struck back and since been dominant against Russia with a similarly unique generation of their own coming into their prime over the following RWC cycle ...
Top 10 most capped age grade teams at a World Rugby U19/20/21 tournament since 2004 (Up to date as of 26/08/2018)

Romania U19 (2005)
Second on the list for most caps from a single age grade team behind Russia is the Romania U19 squad of 2005, who between them 12 full internationals have won 568 caps and counting.
The Oaks actually have a strong history of successful age grade teams going back into the amateur era. Much like their senior team they were able to achieve wins over France and routinely beat Italy in old FIRA U19 tournaments back in the 1970s. Whilst
in the mid 1990's
they had a group that drew with France, beat Wales, Italy, and Scotland, and finished third at the 1996 FIRA U19 World Cup (albeit back then four Tier 1 nations in England, New Zealand, Australia, or Ireland didn't participate).
In the modern era since World Rugby took charge of age grade tournaments in 2002 and all the major teams participated every year though they have had very little success. Aside from one year in 2005 where they finished 7th in the U19 World Championship (after many of the same players had earned promotion winning the B tournament the previous year). Admittedly that ranking was in part down to a fortuitous pool draw, but nevertheless they still had to beat a Tier 1 side in Argentina to achieve it.
Romania U19 team photo 2005
That squad remains by far the best ever team the Romanians have had at a World Rugby age grade tournament and provided the core of the Oaks team for the past two RWC cycles.
They are the only team from any World Rugby age grade tournament to date to have produced six different players with over 60 caps. It is also the only one to have had five different players earn qualification for at least three RWCs (unfortunately though despite earning qualification they of course won't be able to play in at least RWCs for reasons outside their control).
In that squad were the Oaks most capped captain Mihai Macovei (78 caps), most capped player and leading point scorer Florin Vlaicu (111 caps), second most capped player, leading try scorer, and probably most gifted back of the professional era Cătălin Fercu (103 caps), along with their most recent Top 14 winner Mihai Lazar (62 caps), plus also Viorel Lucaci (64 caps), and Valentin Poparlan (75 caps). Additionally there was also another future Romania international at that tournament (in the B Division) in Otar Turashvili who was part of the Georgia U19 team that year.
Left to right: Cătălin Fercu, Florin Vlaicu, Mihai Macovei, Mihai Lazar, Viorel Lucaci, and Valentin Poparlan at the 2005 U19 World Championship. Not a single one of the Oaks 136 matches since that tournament has been without at least one of them in the starting XV.


Those are all some of Romania's most influential players of the past several years all in one age grade team. Indeed all six of those Romanians named above (plus Turashvili) from that 2005 U19 Championship were in the starting lineup for the Oaks notable wins over Tonga in 2013, or against Canada at RWC 2015 where they came from 15-0 behind. If there was a prize for a single age grade team that has gone on to have most influence on a national team this group would surely be a leading nominee.
Mihai Macovei scores a crucial try
vs Canada at RWC 2015 in a match
that included six of the Romania U19
team of 2005 in the starting lineup
Since Fercu's debut in November 2005, there has been at least one player from that Romania U19 team in the starting lineup of every single one of the Oaks subsequent 136 matches, and a minimum of three players from that group on the Oaks teamsheet for the past 82 consecutive matches. Over Lynn Howells five years in charge that U19 group overall held 30% of the starting positions. There were at least four in his starting lineup in 48 out of 61 matches, and between 2013 to 2015 usually six or even seven when Dorin Manole was still around.
This generation (which also includes some others of a similar age such as the Ursache brothers, Andrei Radoi, or latterly Johan van Heerden) have battled hard to keep the Oaks competitive and amongst the top 16 in the world beating the likes of Samoa, Tonga, Canada, and USA, as well as competing with Georgia at the top of the REC which they won in 2017 in Bucharest after unluckily missing out in 2013.
But they've also in many ways been one of the unluckiest generations as well. None of them, apart from Lazar at Castres where he won the Top 14, really got a real chance at a major club, even though Fercu at his peak or Macovei especially were certainly good enough for careers at that level. Romania are also the Tier 2 nation who has to wait the longest for a chance to play a Tier 1 side outside a RWC (where half their chances to do so come off minimal rest), the last time they did was back in 2006 when only Fercu and Vlaicu were in the side with under 10 caps, so that has basically bypassed all their prime years now. Whilst as they approach nearer the end of their careers they've now been kicked out of the RWC.
The upcoming challenge for Romania which some have been warning about for years draws ever closer now. How will they to manage to cope with such an unusually large contingent of their team all having now entered their 30's and likely heading into either a decline or retirement in one swoop?
With their youth setup having struggled so badly for about 7 or 8 years now and showing little real indication of recovery it does not look something they are well prepared for. Whilst they are clearly top 8 in Europe at senior level, they've struggled to make the top 10 in Europe at junior level and the last U20 Trophy they qualified for was back in 2010. Hardly any Romanian players born in the 1990's have broken through and looked like natural successors to the U19 generation of 2005.
GIF: Romania's two 100 cap Oaks Cătălin Fercu and Florin Vlaicu as 18 year olds
combine to create a try during the win vs Japan at the 2005 U19 World Championship
Already we have been seeing signs of decline this year amongst the backs. Fercu has not been the same player of old after coming back from a broken leg last year. Vlaicu got dropped for the first time in years after a forgettable performance against Spain (their first ever REC defeat to a team other than Georgia with all of Fercu, Macovei, and Lazar in the team). RWC 2019 was likely to be their swansong which makes the blow of missing out on hat even crueller.
Georgia U20 (2018)
Several Tier 2 teams may have placed higher in the past, but do not let that fact deceive you as this was the best and most competitive age grade side any Tier 2 nation has sent to a World Rugby age grade tournament. Owing to the nature of the format used in these tournaments a lot comes down to luck of the draw and especially in the mid-table section the final placings are not always truly representative.
For example, the highest ever finish achieved by a Tier 2 side was Fiji U20 in 2011 who came sixth. Yet that was achieved just beating Tonga along with one upset win over a Tier 1 side in Wales (the same year Wales also lost 92-0 to New Zealand). In the other three matches against Tier 1 opponents that year Fiji were thrashed by an average margin of 59-18, and their tournament ended with a 104-17 annihilation against South Africa in the 5th/6th place match, which aside from a horribly out of their depth team the USA sent in 2013 to get slaughtered, is the competition's worst result of the U20 era.
Georgia U20 competed hard against two
of the top three teams in the world in 2018
In terms of a collection of performances over all 5 matches the Georgian U20 side of 2018 stands out as a cut above the rest. They became only the second Tier 2 age grade team after Samoa U20 2009 to win three matches and take two scalps over Tier 1 nations in the same tournament, but it was the team's ability to be truly competitive throughout that stands out.
The average scoreline between Tier 2 nations and the champion side in World Rugby's age grade tournaments before this year was 80-7 (or 71-5 just in the post-2008 U20 era), and the average scoreline against top three finishing teams was 61-9 (or 54-10 in the U20 era).
Yet the Junior Lelos faced two of this year's U20 podium teams within 4 days in their pool and still managed to come out of the tournament with the best average scoreline against Tier 1 teams in the competition's history.
Against South Africa U20 the Georgians led at half time and came away with a losing bonus point, and whilst they never looked like winning against a very strong France U20 team, they stopped them getting a bonus point try and finished with a credible 24-12 loss. Within four days Georgia achieved two of the top three closest U20 results for a Tier 2 side versus a top three U20 team and easily beat the previous best for a Tier 2 side against a world champion age grade team which had been 44-11 (Fiji U20 vs New Zealand in 2010).
There has been no other Tier 2 age grade side that would have come out of that pool draw as well as those young Georgians did. That those encounters against two of the strongest most physical U20 teams did not totally drain them and they finished the tournament with a good win over Scotland was impressive. The rhythm to the rugby the Junior Lelos played between minutes 40-60 in that final match, where they scored 24 unanswered points to take the score from 12-19 to 36-19, was some of the best and most clinical play we have ever seen from any Georgian side.
GIF: Neatly taken try by Georgia U20 to take a match securing 36-19 lead after
scoring 24 unanswered points in 20 minutes of the second half against Scotland
A handful of this team will surely represent Georgia at senior level in the coming years. Although unlike others mentioned here, do not expect this group to have such an unusually disproportionate amount to become regular internationals. Whilst it may be a statistical curiosity to have so many caps from one year, it is in fact a symptom of two failing development systems.
Georgia U18 defeat France A in March
For Georgia this wasn't merely a one off freakish year, their youth setup right now is without doubt the strongest any Tier 2 nation has ever had in the professional era. They have produced a succession of good U18 and U20 teams going back to 2015, and whilst there will always some years better than others at age grade level, there is little reason to believe that overall trend stops any time soon.
What this year's side may be best remembered for though is the outstanding half back pairing of Gela Aprasidze and at
fly half Tedo Abzhandadze
, who developed significantly compared to the 2017 tournament where he was the second youngest player involved at just 17. They were described as
two of the "superstars" of the tournament by Milton Haig
and it is hoped they can take Georgia onto the next level in terms of the senior team performance if they continue to progress successfully.
Looking ahead to the REC in the 2020's ...
Georgia established themselves at the top of the REC some years ago now, a position they've only solidified recently with four Grand Slams in the past five tournaments. One thing that we can be pretty sure of is that will continue as the Georgians will continue to push for the 6 Nations. The likelihood is in fact the distance between them and the rest will only increase over the coming years. Only complacency and lack of motivation, or the coaches fielding development teams may halt that dominance.
However the rest of the tournament on the otherhand moving in the 2020's could be far less predictable and there is a lot of opportunity for a number of sides to rise up the rankings.
The fact is for both Romania and Russia the core of players they have relied upon for most of the last decade or so is far nearer the end of their career than the beginning. Spain's French brigade also had a number of players who missed their last chance this year of qualifying for a RWC. All these teams will be entering rebuilding phases at the start of the next RWC cycle and you'd expect the average age of the tournament to plummet in 2020, which could throw the REC field behind Georgia wide open for a number of teams to potentially breakthrough.
It's possible the door could be left ajar for a Western or Central European nation to get inside the top three for the first time, if either Germany can get their act together under their new CEO, or even if the Netherlands who are one of the most improved sides of the past three years keep progressing with a hungry, young group of players.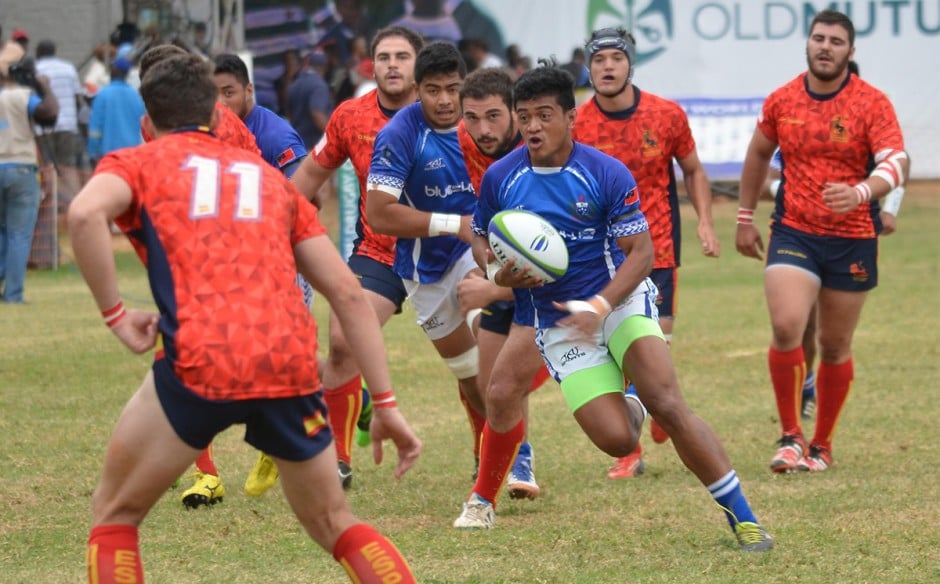 Spain U20 took Samoa to extra time in the
U20 Trophy final in 2016 nearly becoming
the first non-RWC side to reach the main
U20 championship in its 12 team format
Whilst the Iberians, who have been strongest REC nations behind Georgia in terms of age grade results in recent times with both having got as far as the U20 Trophy final over the past two years, could perhaps begin to see more emerge from that generation of players in addition to finding more eligible French players (fewer of whom from now on are likely to be tied by France U20).
And even if both Romania and Russia have been not been in a good place in terms of bringing through younger players over the last several years. They are still both teams with the experience of reaching the RWC and can't be written off. In fact after missing RWC 2019, it's not totally impossible some of the forwards from Romania's U19 2005 generation could be motivated to keep going and right that wrong and reach RWC 2023 as 35/36 year old veterans helping out the younger players coming in.
The future of the REC and what the hierarchy below Georgia will look like in about 5-10 years time and unlike in previous years it is very hard to predict right now. It will be interesting to see whether any Unions can seize an opportunity for what looks like it could be a more open field to reach RWCs 2023 and 2027 with the Eastern Europeans more vulnerable, or whether the Romanians and Russians can cope with an upcoming wave of retirements and rebuild to keep their place in the top three of the REC.