Unfortunately this year has not been a good one for European international rugby's annual second tier tournament the Rugby Europe Championship. Even though many of the issues have been apparent for some time in 2018 they all came right to the fore. Here is a rundown of the worst of the tournament.
Another predictable and underwhelming Georgian Grand Slam
The Georgian grip on the trophy grows ever firmer as years go by. Whilst over the first 14 seasons of the tournament since it began in 2000 the Lelos won the annual tournament 8 times, only 3 were Grand Slams. More recently over the past 5 seasons they have won 4 Grand Slams, the sole hiccup a one point loss in Bucharest last year.
In years such as this one where their closest rival Romania have to travel to Tbilisi the Georgian Grand Slam has now become very predictable, with the Lelos not having lost at home in this competition since way back in the opening round of the 2004 season against Portugal.
However despite such a strong record in this competition. Georgia still persistently struggle to cut loose and amass points tallies that do justice to their superiority over clearly overmatched opposition. Time and time again we see a dominant pack and plenty of possession, but an infuriating amount of sloppy passes, offloads, and handling errors.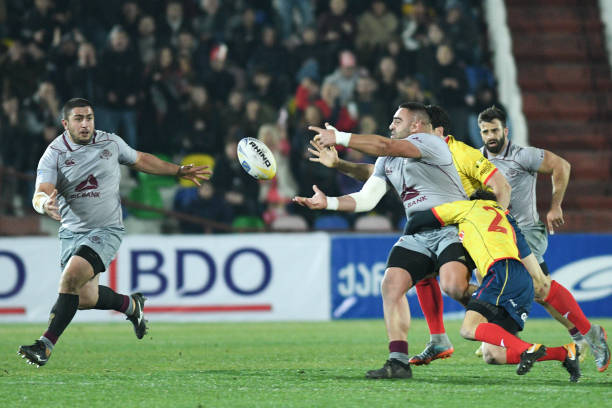 Georgia still frequently struggle to
accumulate good margins of victory
up against far weaker opponents
Only beating Spain's reserves 23-10 was not at all a good result and it is hard imagine any of Georgia's similarly ranked opponents (Japan, Tonga, Italy, USA etc) labouring to such a scoreline. Even worse was their first half against a hopeless Germany side where they only managed 19 points. That was in fact the lowest points tally the Germans conceded in a half of rugby in the entire tournament.
Milton Haig has often talked of his attempts to broaden Georgia's attacking play. Whilst there may have been some success in this regard at junior level, at senior level there is still seemingly little breakthrough and their ability to create and clinically finish try scoring opportunities has shown only minor improvements. The fact yet again forwards outscored backs and props outscored centres or wingers in this tournament doesn't really show much evidence of successful expansion of Georgia's game.
Even though they keep winning, this tournament does not frequently get the best out of Georgia, they will need to play a lot better if they are to get good results on their challenging upcoming June tour.
Understrength teams and sacrificed matches
Whilst it was totally understandable with the priority being securing RWC qualification. It was still not a great look for the tournament to see Spain after they having beaten both Russia and Romania play Georgia with their reserves.
Even though their chance of winning may have been slim, this was still both what looked like at the time being a contest for the title, and an opportunity for Spain to test themselves against the highest ranked opponent they get to face. But they opted not to give it their best shot even though in the end they lost by a respectable scoreline.
Then there was Belgium who struggled to field their best team throughout the tournament. This was especially true away from home where they were hammered 47-0, 48-7, & 62-12 by Georgia, Russia, and Romania. The latter being the worst of those efforts where the
Diables Noirs
fielded almost a complete reserve team which only included 3 players who remained in the starting XV the following week against Spain (the only match of the tournament they were completely at full strength).
Overall the Belgians used 46 players over the five matches, that's a huge amount and more than anyone else this year in either the Rugby Europe Championship, 6 Nations, or the Americas Rugby Championship. It was also the highest amount of players used by any team in a single season in the tournament for over a decade.
Belgium used a huge 46 players over
the tournament and fielded weakened
teams in all their away matches
Key players for them such as tighthead prop Maxime Jadot, scrum half Julien Berger, or centre Jens Torfs only played two out of the five matches in the tournament. It is far easier said than done with availability with clubs not always easy, but for Belgium to start to make more progress in getting consistent results and start rising from the bottom end of the table they will need to find a way of establishing a more stable selection.
Even in the Americas Rugby Championship, where travel is tougher, there are similar issues with release of European based players, and teams usually not absolutely full strength. There has never been teams virtually surrendering matches with nearly entirely changed XVs like Belgium did in Romania or Spain did in Georgia. Obviously we would never see it in a Tier 1 competition either.
Then of course talking of weakened teams then there is Germany who are a different issue altogether ...
The total collapse of Germany
Undoubtedly one of the worst things about this year's Rugby Europe Championship. Almost as quickly as their rise in 2016/17 with wins over Portugal, Uruguay, then most shockingly Romania. Germany tumbled back down following a dispute between the DRV and their former backer Hans-Peter Wild, an employer of a sizeable percentage of their squad who have since become unavailable.
With an average scoreline of 72-7
Germany this year were the worst
team in the tournament's history
The result of this dispute has been that Germany this year fielded a incredibly weak team (including 19 different debutants) that was the worst in the tournament's history. They were thrashed in every single game with an average scoreline of 72-7 and losing margin of 65 points, surpassing Ukraine's tournament record 61 points set in 2005. They also had nearly broken the record for most points conceded in a season with a game to spare.
There have been some very bad teams at the bottom of the REC in the past. From 2000 to 2012 the Netherlands, Ukraine, Czech Republic, and Germany the first time they were promoted, were all on the end of some heavy beatings. It had seemed after 2013 when Belgium and then an improved Germany were promoted those days would be behind us. In 2017 Belgium's average losing margin was 17 points, the lowest in the tournament's history of any team that had lost all their games. But sadly Germany this year managed to bring them back in style.
Needless to say Germany's matches this year were a waste of time and not much fun to watch. Never has a side deserved relegation more but annoyingly they now may manage to stay in the tournament for another year thanks to a row over ineligible players.
It is unknown how long their current dispute will go on for, but hopefully they will get some time to sort it out whilst in a lower division rather than remain and get thumped in every match of this tournament.
Empty stadiums in Romania
In general somewhat improving crowds were one of the few positives of this year's tournament. Georgian rugby continues to attract incredible attendances even for REC matches, plus we saw Spain pack their stadium for first time in many years and the sport reach the front pages in the news, whilst Russia got 11,000 for their opening match in Krasnodar which was also their largest crowd in the REC for a long time, and Belgium packed their little stadium and there are suggestions they could be ready to move to some bigger venues for some matches.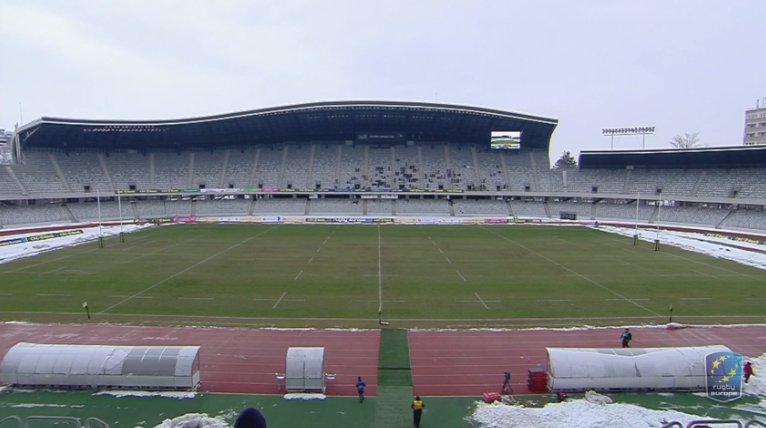 The crowd for Romania vs Russia
The exception though was Romania, whose stadiums looked depressingly empty. There are a few factors behind this. There was freezing weather, which as well as putting off fans from going, also meant Romania had to move to facilities in Cluj (which has few rugby fans) where there is a heated pitch and prevent any risk of a match being cancelled. However what looked like 150 fans (official figures claim 1,500) in a 30,000 stadium is not a great look.
Poor attendances and declining popularity for the sport in Romania has been concern for a while. Sadly it is hard to see what could spark some energy into the sport there as we saw happen in Spain.
Refereeing shambles
For years this tournament has usually been treated to low rank Pro14 referees or rookies from England or France. This has often not come with great results and this year the tournament got under way with Frank Murphy and his touch judges delivering one of the worst missed calls you could ever see to deny Russia a try in a close match with Spain.
Later on Russia vs Georgia, a fixture that is one of the most noteworthy rivalries in the competition, got a young English referee who had not yet done a single Premiership game. Even the Georgia vs Romania Antim Cup rivalry, usually the fixture that decides the tournament got one of the most inexperienced referees in just his first season in the Top 14.
The tournament is essentially viewed as a training experience for the most junior refs and largely just from 6 Nations countries (it should be noted unlike the Americas Rugby Championship there are remarkably few opportunities in this tournament for development of any referees from Tier 2 nations). Understandable perhaps for some of the less consequential fixtures, but for the most important matches in the tournament it is not great.
Also in one of the rare occasions that a referee from a Tier 2 nation did get an opportunity, in Vlad Iordachescu, it of course came at the worst possible time and ended up in total disaster.
Decisions were also further not helped by the lack of TMO in all the games. There has been some passing of the blame for this amongst each Union, but it is something that really ought to be sorted especially for the most important and evenly contested matches. Again the Americas Rugby Championship is ahead of the REC in this aspect as well.
Aftermath of Spain's loss to Belgium
This tournament rarely gains a great deal attention in the mainstream rugby media, but thanks to Spain's loss to Belgium and the ensuing aftermath it certainly did. Although of course not for the right reasons.
The aftermath of Spain's defeat gave
the REC more media coverage than
ever before but not in a good way
No need to revisit in great detail what has
already been gone over
numerous times. But in short after suffering an upset loss, unfortunately the Spain team went a bit nuts and chased the referee off the pitch, and their behaviour on social media in the week afterwards continued in much the same vein.
There was no calm review of the match, but an outrage mob attempting to push a narrative that this was a clear conspiracy to rob Spain in order to get Romania to the World Cup (it wasn't).
Completely fabricated penalty stats were repeated over and over to try and back this up, angry amateur videos were circulated with complaints such as the ref "being slightly too slow to give a penalty" cited amongst the evidence that this was the most bias refereeing performance of all times, old irrelevant articles from Samoa were dug up amongst other things to push the narrative.
Whilst the FER promoted a hashtag #JusticeForSpainRugby demanding a rematch, of course not long after they had just beaten Russia by virtue of a calamitous refereeing blunder and a match winning try created by an allegedly ineligible player. And another one #JusticeForRugbyValues only days after
their
own players had just abused and chased the referee from the pitch (and who were also still - again most ironically - calling him a "thug" in the week after as well as promoting fake news penalty counts). The hypocrisy and lack of self awareness here was astounding.
Those who pointed out the fact that the refereeing performance was not really the equivalent of
Paddy O'Brien vs Fiji in 1999
, or the penalty stats many were justifying their outrage upon were in fact exaggerated, and offered the far simpler explanation for the result which was that Spain were not good enough on the day were accused of being "Romanian" or "anti-Spanish".
Overall this was an utterly embarrassing episode for both Rugby Europe, who totally brought this situation upon themselves, and for Spain with their completely over the top tantrum afterwards.
The ineligible player fiasco
Victor Paquet is one of a handful
of players with eligibility question
marks that has put into doubt the
final results of this year's REC
As the furore from the Belgium/Spain match died down a new controversy emerged. Belgium were found to have fielded an ineligible player in Victor Paquet against Germany. Soon after we discovered Romania's Sione Faka'osilea had played 7s for Tonga some years back. Then the next day it was pointed out Spain had two players in Mathieu Bélie and Bastien Fuster who were tied to France through matches with their U20s, plus had previously fielded Fabien Grammatico, a former France 7s player, against Germany back in 2015. There may still be more. It seems substandard checking in this area may have been going on for quite some time.
So half the teams in the tournament have fielded players with ineligibility clouds hanging over them. The consequences of this are still to be determined. There may be loopholes we are not aware of, or teams could possibly simply be let off lightly.
But one thing it could mean in a possible worst case scenario all those three teams get disqualified from the RWC with Russia and Germany the only ones left standing to progress further.
This would basically mean the entire past two years of RWC qualifying in this tournament will have ended up being a waste of time. The RWC would not get the strongest possible competitors from the REC directly qualifying, whilst the worst ever team in REC history would progress and be a gift to every opponent in the repechage playoffs. Hardly an ideal scenario for the tournament.