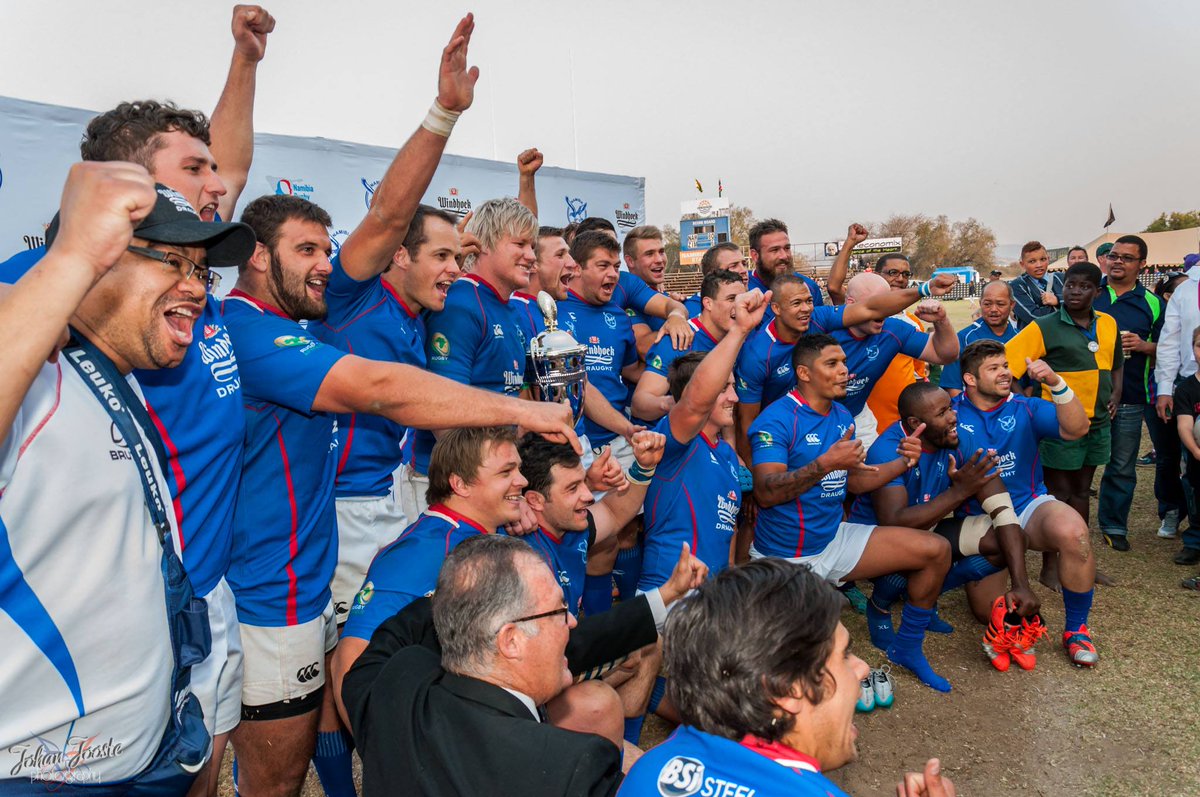 A short look at Namibia's preparation and build up and squad for the tournament, as they hope just to limit the heaviness of defeat they suffer.
Namibia have had one of the most tumultuous World Cup build ups of any side. The Nations Cup, although played without their three star players Jacques Burger, Renaldo Bothma and Chrysander Botha, was a complete disaster.

They didn't come close to winning a game, and finished the tournament with an aggregate of 16-93. To top off that disaster, coach Danie Vermeulen departed afterwards after an internal row with the members of the Union that he revealed had been going on for a year.
Coach Phil Davies got the job
in controversial circumstances, and
strangely has been on Scrum V
recently whilst his squad finishes
the latter stages of their preparation
back at home in Namibia.

Amongst his complaints was an accusation
of racism against him which he claimed the Union didn't tell him what they were. Not getting who he wanted in his coaching staff. Interference in team selection from Phil Davies who WR sent to help as a technical adviser. And said the final straw was having to pay to replace his wheelchair that was stolen.

After that Phil Davies took over as head coach, denying interfering, and was joined by Pieter Rossouw as backs coach and so far have won every game handily.

Beating Russia twice, Kenya and Zimbabwe with an overall aggregate of 210-43. Although that obviously is miles off the opposition they face at the World Cup, all played in home conditions on their rock hard baked Windhoek surface as well.
Video: Scoring tries against poor standard sides wishing to engage in 7's style rugby on
hard baked surfaces at altitude may look fun, but it is a world away from the kind of
matches the Namibians will be playing at the World Cup, where lots of tackling will be needed.
Russia who were on paper the hardest of those opponents, didn't appear to take the tour seriously at all, and came unprepared at altitude and chucked the ball about like it was a 7's game.

Unfortunately though, the conditions, opposition and intensity didn't replicate anything whatsoever of what they face at the World Cup, so it's hard to say they are well prepared. The chances of being to maul sides 35 metres like they did to Zimbabwe against say, Georgia or Tonga like this at the World Cup are zero.

Their only more competitive matches were in the Nations Cup, and in that they had internal issues brewing, and fitness looked horrific, and Romania in particular tore them apart as they tired badly in the second half to win 43-3. It could have been worse.
GIF: Namibia will have a lot of defending to do at the tournament, so the defence in some of
the tries they've conceded to the likes of Romania, Spain or even Russia here was a bit concerning.
The most positive performance over the past 12 months was at Colwyn Bay, where they gave Canada, albeit missing some of their best players a competitive match.

Although the way their set piece was destroyed, and defence wilted against Romania was not a promising sign before their most winnable game against Georgia. And also makes Phil Davies' selection choice of only picking 2 locks in his entire squad a bizarre one when the set piece was so bad.

Namibia have barely been exposed at all to any side better than Romania since the last World Cup, which frankly is pretty poor on WR's behalf, but have managed to do some training work with the South African squad early this month.

They will rely on those who do carry experience of the intensity of a higher level. Despite carrying a dozen amateurs, they do have numerous players who have played at Super Rugby level, or in Top 14 or Premiership, although not all currently active.

Curiously, as they have been preparing with the tournament less than a week away. They were in Namibia training, whilst Davies was on Scrum V television doing punditry, laughing at their expense at how badly they may do. Which whether or not it may be true, is a strange thing for a 'head coach' to do.

Going by what Davies has said, the squad do not appear to have any hope of winning a game, and are just looking 'to do themselves proud'.

Facing New Zealand will be a daunting task, but it will be better to get that match out of the way fast instead of tagged on at the end when the squad is worn out.

Anyone who remembers the 2011 tournament, will see the contrast in level between the opener against Fiji, and the final 40 minutes against Wales off 3 days rest from playing South Africa. So the Argentina match, off 3 days rest may be also really tough.

In 2011 they just played their strongest XV throughout regardless of tiring, and they may do that again, as depth is not good, and the rotating policy of 2003 with some of the weaker players involved led to 142-0.
---
Fixtures:
24/09 -
New Zealand | Olympic Stadium | Ref: Romain Poite
29/09 -
Tonga | Exeter | Ref: Glen Jackson
07/10 -
Georgia | Exeter | Ref:
George Clancy
11/10 -
Georgia | Leicester | Ref:
Pascal Gaüzère
---
Squad:
Loosehead Prop: Jaco Engels (Trustco United) previously of the Bulls and Kings will compete for this position with Johnny Redelinghuys (Wanderers) who is the most capped Namibian of all time.

Hooker: Torsten van Jaarsveld (Cheetahs) offers regular Super Rugby experience and will be clear first choice. 20 year old Louis van der Westhuizen (Leopards) will back him up.
Tighthead Prop: Aranos Coetzee (Cheetahs) has recently made himself available. Raoul Larson (SWD Eagles), AJ de Klerk (Wanderers) and Casper Viviers (Trustco United) will also compete for this spot in a strangely selected squad for with primary tightheads, although Viviers also can play loosehead.
Lock: Remarkably just two locks in the squad, with Tjuee Uanivi who was at Brive last season although currently clubless after being released, the certain first choice alongside Janco Venter (Maties) another very young player.
Back Row: Jacques Burger (Saracens) is the best known player in the team after a good spell with Saracens, and captains the side for his final World Cup. Renaldo Bothma (Sharks) will likely be the number 8, he also held down a starting spot at the Sharks this season. Rohan Kitshoff (Durbanville-Bellville) is the specialist openside, with Super Rugby and Top 14 experience. PJ van Lill (Bayonne) has been a regular in the team at 8, and captained them, but faces competition from Bothma. Tinus du Plessis (Wanderers) also with experience at Wasps also returns for another tournament. Whilst youngsters Levave Damens (Wanderers), and Wian Conradie (Johannesburg University) also make the squad. The squad is very unbalanced in being stacked with back rowers at the expense locks.
Scrum Half: Eugene Jantjies (Dinamo Bucuresti) is one of the most experienced players in the squad in his third tournament, and will be backed up by Eniell Buitendag (Wanderers) and another of the recent Under 20's to make the 31 in Damian Stevens (Ikey Tigers). Jantjies can cover fly half.

Fly Half: Theuns Kotze (Bourge-en-Bresse) caught the eye with his drop goals in 2011, and returns again as the only specialist fly half in the squad. He needs just 16 points to break the all time Namibian points record.
Centre: All of the centre options have rotated heavily recently, with Johan Deysel (Leopards), Darryl de la Harpe (Western Suburbs), Danie van Wyk (Trustco United), JC Greyling (Trustco United) and Heinrich Smit (NWU Pukke) all getting starts in the centres over the past four matches.

Wing: Conrad Marais (Béziers) is the sole professional wing in the squad. Russell van Wyk (Western Suburbs) had his pace hyped by the coaching staff, but appeared to have defensive frailties in the Nations Cup. David Philander (Spotswood United) is the other option, whilst Smit also covers wing.

Danie Dames (Cheetahs) who was one of the few outside backs with Super Rugby experience this year, misses out injured.

Full Back: Chrysander Botha (Exeter) is clearly the back with most pedigree and has done well with the Lions and now Exeter. Johan Tromp (Wanderers) will be the back up.